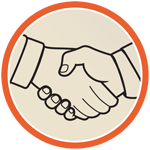 Are you ready to know how to talk to anyone? Because as you master Becoming a Masterful Networker you'll find you're able to talk to anyone, anywhere, at anytime!
Here you will be given the opportunity to take those simple yet profound steps moving through your fears and limiting beliefs connecting with people. Create and cultivate deep, beneficial relationships. Learn the most powerful networking skills to navigate both the online and offline worlds—all WITHOUT compromising what your value.
Let's get started!
The Course Overview
This is a self-paced & action-based 21 day couse for you to learn new methods, skills, techniques, and strategies for learning to have a conversation with anyone!
Below is your course overview with a brief outline of the skills you will learn and a link to each day's lesson:
Prerequisites
System Requirements
This course uses an audioplayer that plays best on most all modern computers and tablets, as well as iPhone and Android smartphones.
***If the audio player does not work, please try a different web browser***
Best solutions: Mozilla Firefox or Google Chrome
Week 1: Building Your Networking Foundation
Week 2: Leveraging Your Growing Network
Week 3: Developing Mastery in Networking
Acknowledgements: